New York Time Square is one of the most prestigious and iconic places to run ads. Nearly 500,000 people cross New York Time Square daily. All the iconic brands like Coca-Cola, Samsung, and also new brands advertise there. Leveraging New York Time Square for luxury branding is one way to build power image and a strong international brand.
New York Time Square is very well known in the Western world, North America and Europe. Most of the companies and brands that advertise are mainly Western brands. However recently, more and more foreign companies from the Middle East, Africa, and Asia Pacific tend to advertise on New York Time Square as well.
How much brand leverage can you get from running ads on New York Time Square as a foreign company?
First of all, let's not forget that New York Time Square is a prestige and iconic location for rich and famous brands. It is also highly-priced to run branded ads. The location includes the iconic Nasdaq Tower, the Boulevard, and the NY Time Square Take Over Screen in the center of it.
Being featured here is not to attract customers but rather to show power, to build an image that can be distributed worldwide and be recognized as an iconic brand. Asian companies tend to run ads in New York Times Square more frequently. Additionally, we have seen a lot of cryptocurrency companies running ad placements on the Nasdaq Tower in particular.
Even if you are doing business in the US or Europe, standing out from the local competition can become frustrating if provided services to clients compete very much. To stand out from the crowd you need to represent your company more exclusively even if it means getting featured in New York Time Square.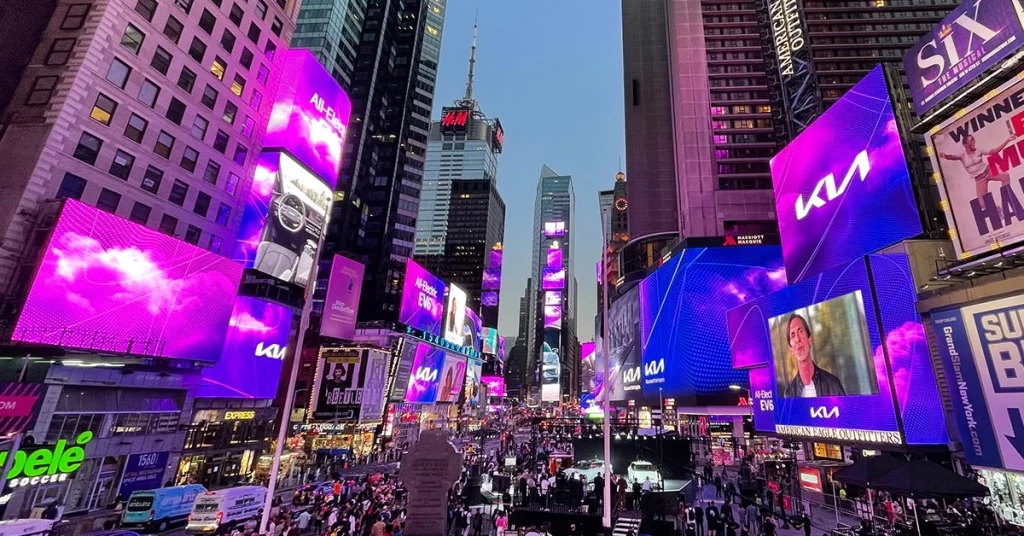 Expensive advertising adds a layer of trust toward sales
It's not easy to get a contract closed in the current competitive business environment. You need to show off a lot and be very competitive toward the price, deliverability, and usefulness of your product or service. Yet the decision-making might not even be about that.
Considering there are hundreds if not thousands of companies offering the same service or product as you do, each company has a different history and different background. If you can't compete on the price, deliverability, and usefulness, then compete on your company's profile.
Try to build your corporate profile as astonishingly as possible to be able to impress both local and international clients. Now, astonishing means expensive, and clients can recognize very easily and quickly if your company has put enough effort and money into building such a profile.
Clients tend to lean on business closures with companies that have more establishments than others. Branding and reputation takes a big part in that play. Everybody can recognize New York Time Square, almost everybody has seen it in movies at least once. Having done at least one campaign in the New York Time Square can very much leverage your position not just on deal closing but also influence existing client relationships and even investors.