In the heart of the Republic of Kazakhstan, amid the unspoiled landscapes of the Caspian region, LLP Karaganda-Osetr has been quietly revolutionizing the sturgeon farming industry since its establishment in 2013. This forward-thinking company has emerged as a dominant force in the field, specializing in the cultivation and export of top-tier sturgeon caviar. LLP Karaganda-Osetr is not only recognized for its commitment to sustainable sturgeon breeding but also as a producer of sought-after marine delicacies prized by connoisseurs worldwide.
A Dedication to Conservation and Excellence
LLP Karaganda-Osetr's mission is clear: to protect the natural sturgeon resources and to create an exceptional product for the global market. To achieve this goal, the company introduced the trade brand "QAZAQ CAVIAR," aimed at promoting Kazakhstani excellence on the international stage. Here are some key aspects that set QAZAQ CAVIAR apart:
Unique Location: The Caspian Advantage
Kazakhstan's strategic location along the Caspian Sea, the native habitat of sturgeon species, provides an ideal setting for sturgeon farming. At LLP Karaganda-Osetr's cutting-edge facility, these fish flourish in pristine waters. European-quality feeds and meticulous care from dedicated staff contribute to their well-being. The company honors historical Caspian traditions in its practices.
QAZAQ CAVIAR: A Symbol of Quality
The "QAZAQ CAVIAR" brand has become synonymous with reliability and the highest quality standards in sturgeon caviar. Each jar bearing this prestigious label signifies a product that has undergone rigorous quality control, meeting the most stringent global standards.
Environmental Responsibility
Environmental responsibility is a top priority for LLP Karaganda-Osetr. The company is deeply committed to sustainable fish farming practices and the preservation of the natural environment, ensuring a harmonious coexistence with nature.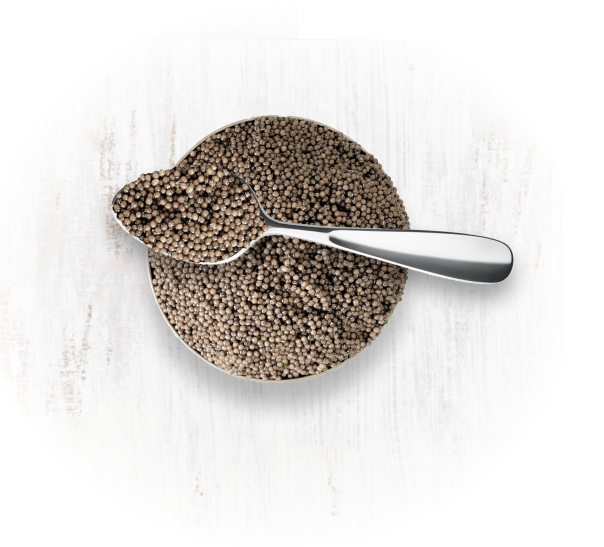 Uncompromising Product Quality
QAZAQ CAVIAR sturgeon caviar is renowned for its exquisite taste and unwavering quality. The production process is meticulously controlled to guarantee that each jar of caviar meets the highest global requirements.
Global Reach
LLP Karaganda-Osetr actively exports its products to key markets, including Russia, Belarus, and the United States. Looking ahead, the company has ambitious plans for expansion, with branches set to open in the UAE and Japan by 2024. This expansion underscores the trust and recognition that "Karaganda-Osetr" has earned on the world stage. By 2028, the company aims to increase production volumes to an impressive 40 tons of sturgeon caviar annually.
Research and Innovation
Innovation is at the core of LLP Karaganda-Osetr's operations. The company continuously seeks to enhance breeding methods and improve product quality through ongoing research projects, ensuring the sustainability of sturgeon populations.
LLP Karaganda-Osetr, with its "QAZAQ CAVIAR" brand, stands as a testament to the successful intersection of business and environmental responsibility. It produces an exceptional product while actively contributing to the preservation of marine resources. With its unique approach to sturgeon farming and caviar production, it continues to captivate the palates of connoisseurs worldwide while safeguarding natural wealth for future generations.